Trading Options in QQQ
---
It's a fair question -- does selling put spreads in the Nasdaq 100 (QQQ) work, and if so, how do we optimize the results?

ANSWER
We start with a simple test -- selling out of the money put spreads in PowerShares QQQ Trust, Series 1 (ETF)(NASDAQ:QQQ) over the last two-years using weekly options. Here are the results: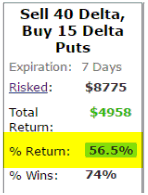 That approach returned 56.5% in two-years with a 74% win rate. But the next questions follow a deeper more intelligent narrative -- can we do better?

DOING BETTER
Next we will examine that same strategy, but we'll use monthly options rather than weekly. This will reduce our commissions and trading frequency.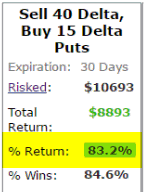 We see a huge jump in the return from 56% to 83%. Even more, we see our win rate rise from 74% to 84.6%. But, we're not done. Trading is about precision, and our next gut check is to put in a stop loss.

DOING EVEN BETTER
We run the same test, using monthly options, but this time we put in a stop loss at 100% for the trade in PowerShares QQQ Trust, Series 1 (ETF)(NASDAQ:QQQ). Remember, selling a put spread can lose much more than 100% while it can only gain a maximum of 100%, so what we're doing here is evening our our profit and loss distribution curve.

Here's the setting we put in: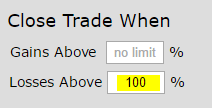 And here are the results: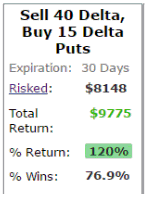 The return jumps to 120% and we have actually reduced the risk of the trade by putting in a stop loss. This is trading, friends. Now it's your turn.
---
View Ophir Gottlieb's post archive >